Summer School on Media Ethics 2016: workshop topics and leaders
Informácie o workshopoch v slovenčine tu.
Workshop topics
Workshop of Michal Bočák is entitled "Poor, white, heterosexual man": media representation, majority and its sensitiveness toward the minorities and their identities. 
Workshop lead by Ivo Bystričan will focus on the reflection of social and ethical issues (with special interest paid to the reflection of refugee crisis) in the documentary movies.  The workshop lead by Ivo will preview one of his recent documentary movies which will follow by the discussion on the ethics of media in Czech Republic (and in V4 in general).
Gyorgy Kakuk will discuss within his workshop the refugee crisis from the perspective of journalist: "The refugee crisis, which is called by many the biggest such crisis in the post WW II history of Europe, brought earthquake like changes into the societies of the Visegrad 4 countries. The tremors started to redraw the political map of Europe and undeniably pushes the entire political spectrum to the far right. It is quite possible that very soon we can observe such changes across the entire political spectrum that one description tells all: "far right is the new centre". The societies of the Visegrad 4 countries are divided and the fields where sensible dialogue could be carried out is narrowing. The governments raising fear, hatred and xenophobia with the only aim, keep their power. With no exception in these countries the refugee crisis is used by spin doctors as a tool for raising the popularity their masters. The main subject of this workshop discuss how the mainstream media presented and presents the refugee crisis to the domestic public. To find the similarities and the differences. In this workshop I would like to use William Butler Yeats' poem, The second coming, as a jumping board, and investigate what has changed since 1919, the year when this extraordinary text was written." The workshop will be lead in English.
Interactive workshop lead by Ján Kalajtzidis will focus on the problem of morally conflicted ads. It will be based on the real cases originated from Council for advertising´s registred complains. Also, the problematic relationship between the advertisement and the consumism will be discussed.
Katarína Komenská will in her workshop introduce the various forms of media education, its link to moral education, as well as using media in its processes.
Marcel Martončik will lead a workshop focusing on the cyber-psychological and ethical aspects of computer gaming. His workshop, entitled "I am gamer! (PC gaming master race) And what?", would critically reflect on following ethical issues of PC games:  1) immoral content of PC games, 2) gaming addiction vs. e-Sports (as a positive addiction?), 3) pros and cons of gaming and its consequences, 4) can games be useful; e.g. educational games.
Bonus: during the workshop, you would have an opportunity to discover a real PC gaming master race in you.
Workshop lead by Sylwia Męcfal: Local media in a community – 'relentlessly local' media, recognizing conflict of interest, (local) media ethics. The workshop will try to find out what 'relentlessly local' media should be like and what content they should provide, to answer the question what our local newspaper should be like, and how to recognize conflicts of interest in (local) journalism.
Workshop lead by Jan Motal: "Freedom of Press Belongs to People": The Journalist´s Commitment to Human Rights. The lecture presents journalist's obligation to take care of the basic human right of free speech and opinion. The professional ethics will be elaborated on the basis of responsibility to people, not only audience, media owner or market. The question of media autonomy and social engagement will be discussed in the context of democracy and human rights.
The workshop of Juraj Rusnák, Trolling as a consequence of gradual transformation of the freedom of speech into propaganda, will examine the causes and consequences of the use of specific form of the freedom of speech – trolling. Trolling is an intentional creation and dissemination of texts infiltrated into internet discussions causing a various method of manipulation (redirecting from the main topic of the discussion, intentional provocation of other panelists, targeting on emotionality of the discussion, extensive dissemination of unverified/unverifiable information, etc.). Special attention of the workshop is also paid on the possibilities to use trolling as a part of sociological propaganda in electronic media. 
Daniela Vajbarová will lead a workshop on analysing the gender structure of media organisations, newsroom culture, and the link between gender and journalistic practice.
Workshop leaders

Michal Bočák teaches at the Faculty of Arts, University of Prešov. He is the head of the Department of communication and media studies. His research interest focuses on the analysis of cullinary journals, representation of identities in media, online pornography, and analysis of TV news.
Email: michal.bocak@unipo.sk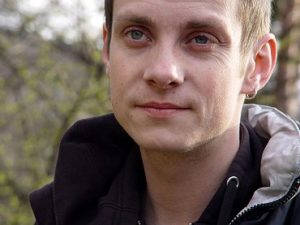 Ivo Bystřičan studied Sociology and Social Politics at the Faculty of Social Studies, Masaryk University, Brno and the Documentary production at the FAMU, Prague. Here, he graduated with a feature film Dál nic (2014). As a screenwriter and director, he has produced a series of documentary movies which focus on the social issues, such as Blízký soumrak (2015), Zločin pana Chytila (2014), Mých posledních 150 000 cigaret (2013), Všechny příští Černobyly (2011), Hypermarket, jeho pán a otrok (2011), Doba měděná (2010). As a dramaturg of documentary production, he closely cooperates with the Czech television. His movies have been shown at film festival in China, Spain, Israel, Lebanon, Brazil, or USA.
Email: office@ivobystrican.com


Gyorgy Kakuk is a Hungarian journalist, activist, and opposition politician. Within the last few months, he has been covering the topics of the refugees crisis in Europe. He has visited refugee camps all around Europe, as well as in Turkey and Syria. This year, his book El Camino de Balkan was published, which collects his thoughts and stories from his journey and these of people, he met on the road.
Email: gyorgy.kakuk@gmail.com, Twitter: @gyorgykakuk

Ján Kalajtzidis is a research assistant at the Institute of Ethics and Bioethics, University of Prešov. In his research, he focuses on contemporary problems of economics with a special attention paid to its moral questions. He has published several scientific studies analyzing the problem of consumism and consumerism, its history, and its ethical challenges and limits.
Email: jan.kalajtzidis@unipo.sk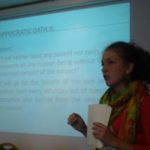 Katarína Komenská teaches ethics at the Faculty of Arts, University of Prešov. Her research interest includes bioethical and environmental issues, disaster ethics, and global ethics as a method to approach contemporary ethics education. In her work, she focuses on the issue of active participation on public life and on ethical issues the society faces (activeness as one of the main characteristics of moral agents).
Email: katarina.komenska@unipo.sk


Marcel Martončik is a research assistant at the Institute of Psychology, Faculty of Arts, University of Prešov. In his research, he primarily focuses on cyber-psychology, mostly in the sphere of computer games. He reflect rather on their positive than negative aspects. His research interest has arisen from his (previous and long term) experiences with an e-Sport gaming of the strategic game StarCraft BroodWar.
Email: martoncik@centrum.sk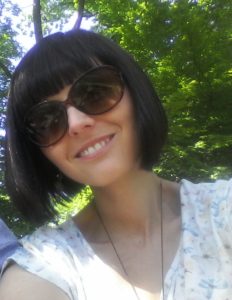 Sylwia Męcfal is a research and teaching assistant at the Department of Social Research Methods and Techniques, Faculty of Economics and Sociology, University of Lodz in Poland. She is a former coordinator of a student magazine and a researcher. Her research interests include media and politics, local journalism and methodology of social science.
In her PhD thesis 'Local press in their societal context – interest groups, key actors, problems of functioning – case studies of local weeklies in the łódzkie voivodeship' the author investigates significant social issues connected with the formal and informal relationships between media, politics and business at the local level and their consequences for local communities. Among the investigated phenomena there are such issues like: individual and institutional conflict of interest in journalism, media ethics, symmetrical and non-symmetrical relations between local media actors and authorities, forms of local media relations in a local community.
Email: sylwia.mecfal@wp.pl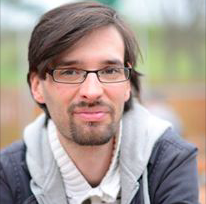 Jan Motal works as an assistant professor at the Faculty of Social Studies, Masaryk University in Brno, and as a researcher at the Unit of Research into Theatre and Drama, Janáček Academy of Music and Performing Arts in Brno. In his research he focuses on phenomenology and hermeneutics of art, religiosity in media and media ethics.
He has a special interest in normative ethics, especially in the question of incorporating democratic values into media ethics. As a contributing opinion writer for Česky rozhlas (Czech public radio broadcaster) Jan comments on the contemporary issues of democratic culture. Since the summer of 2015 he actively discusses the European refugee crisis. He is a documentary filmmaker as well.
Email: jmotal@mail.muni.cz, Twitter: @jmotal


Juraj Rusnák is a teacher at the Department of Communication and Media Studies at the Faculty of Arts, University of Prešov. He is an author and co-author of four scientific monographs, four university textbooks, and a researcher at five scientific projects. He publishes scientific papers in both, domestic and foreign journals (Great Britain, Spain, Poland, Hungary, and Czech Republic). His main research interest focuses on the production and reception of electronic mass media and their role in contemporary pop culture.
Email: juraj.rusnak@unipo.sk

Daniela Vajbarová is a PhD student at the Masaryk University's Faculty of Social Studies, Department of Media Studies and Journalism in Brno, Czech Republic. Throughout her studies she has developed an interest in the intersection of the journalistic profession and gender. Daniela's main research interests are the gender structure of media organisations, newsroom culture, and the link between gender and journalistic practice.
Email: vajbarov@fss.muni.cz
The project is supported by International Visegrad Fund, the partners are: Presov University, Masaryk University, University of Lodz, and Georgy Kakuk.